---
About Lingkar Temu Kabupaten Lestari
The Sustainable Districts Platform (or Lingkar Temu Kabupaten Lestari / "LTKL") is a membership-based coalition with Kabupaten, represented by Bupati, as its members. LTKL intends to connect the dots and create impactful partnership towards sustainable jurisdiction focusing on land-use, within and between Kabupaten through innovative convening method. A 'Sustainable Jurisdiction' will balance environment, social and economy aspects within its policy, planning, and programs with concrete goals to (i) increase GDP of districts, (ii) alleviate poverty and (iii) moving towards zero deforestation and peat. LTKL is supported by a Partners Network which provide strategic support (in-kind and resources) and guidance to Lingkar Temu Kabupaten Lestari through its national and direct district's engagement. At this moment, LTKL has 12 districts as the members and 14 organization as the members. LTKL is also supported by a Secretariat team responsible to facilitate, monitor and report on LTKL strategic activities through an integrated platform. It will also be in-charge to conduct strategic research and analysis on building blocks for sustainable land-use.
One of the expected functions of LTKL is to be able to reach the regional competitiveness and facilitate the easy access of sustainable investments in the districts in collaboration with the multi-stakeholders in the districts and national level. To date, LTKL Secretariat have attempted to create a shared, safe, and innovative solution-oriented circle of discussion among its members and partners to objectively analyse progress, opportunities, and challenges in implementing sustainable vision through district leadership. It also aims to enhance interconnection between the group. For this purpose, LTKL Secretariat has constructed LTKL Communication and Outreach Strategy for the period of 2018-2030 with specific activities outlined for the period of 2019-2020, taking into account LTKL 2030 long-term development target.
PURPOSE OF THE ROLE:
To achieve the above objectives, LTKL Secretariat requires a Cash and Bank Officer to assist with the implementation of day-to-day financial operation.
DUTIES AND RESPONSIBILITIES : 
Payment verification:

Ensure payment vouchers complies with LTKLs policy and procedures.
Make sure that all relevant/adequate documents required for payments to staff, consultants, suppliers, and local partners are reviewed and completed.

Payment and banking process:

Input payment into bank system.
Submit payment batch to the authorizer and release the payment once approved.
Perform bank related work including physically visiting bank for opening/closing bank accounts; updating the bank signatories; updating web banking user authorization, etc.
Ensure payment executed according to the agreed payment schedule

Petty cash management:

Ensure that Jakarta Office maintains a single petty cash system to make sure a better serving, clear reporting, and controlling.
Manage the Institutional Building Unit general petty cash.

Strong financial support:

• Ensure that all financial documents are properly filed and maintained so that it is easy to be tracked for any quires for reporting and auditing purposes
Manage fund request sufficient, accurate and timely.
Consolidate, analyse, verify and foresee cash request settlement from staff from the proposed cash request and ensure month-end cash balance is on target.
Assist project and statutory audit process.
QUALIFICATION / EXPERIENCE
Education Degree in Accounting or Finance Management.
Minimum 2 years working experience.
Experience of working with INGO, UN or similar are an advantage.
Strong computer skills in Microsoft Office (Word and Excel).
Good command of English, verbal and written.
Good team player with excellent interpersonal skills.
Good knowledge of Indonesia taxation
Familiar with e-SPT program.
Ability to solve problems, show initiative and work independently.
Respond to requests, queries in timely and customer-oriented manner.
Attention to detail, particularly with regards to expense transactions and financial reporting
TERM OF OFFER : 
1. Contract Period
The position is expected to start immediately. Contract duration covers the period of May 2022 – July 2023. Extendable based on performance evaluation and program needs.
2. Reporting
S/he will report on a weekly basis to the Finance Manager.
3. Duty Station
The candidate will be stationed in Jakarta, with travels is necessary based on the needs to the relevant districts.
HOW TO APPLY: 
Send the application for the positions before 22 May 2022 to recruitment@kabupatenlestari.org with subject "Cash and Bank Officer", which must include (i) a cover letter illustrating your suitability for the position against the listed requirements, (ii) a detailed curriculum vitae, and (iii) a list of three references and their contacts and (iv) expected salary.
---
Seniority Level
Mid-Level
Job Function
Financial
Duration
1 year
Employment Type
Full-Time Staff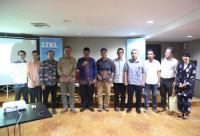 September 6, 2023